Bossing Images 7
Thu July 14, Agora Rollberg, 6 – 10 pm
on the site of the fomer Kindl brewery (Berlin Neukölln, Am Sudhaus)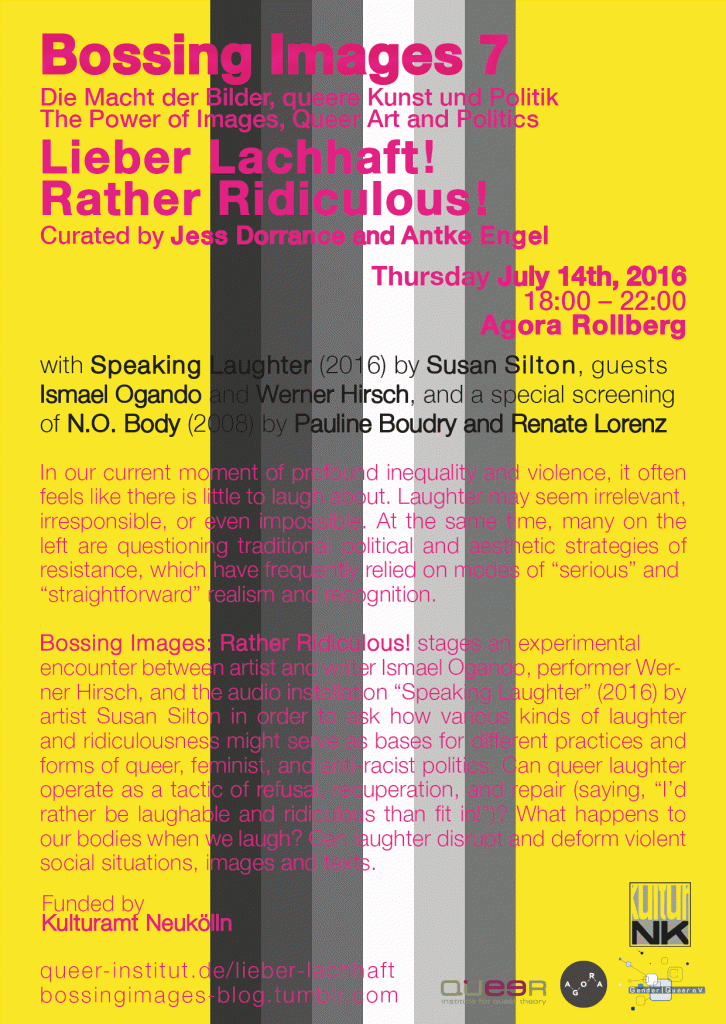 for download: Flyer Bossing7-lachhaft
Lieber Lachhaft! // Rather Ridiculous!
In our current moment of profound inequality and violence, it often feels like there is little to laugh about. Laughter may seem irrelevant, irresponsible, or even impossible. At the same time, many on the left are questioning traditional political and aesthetic strategies of resistance, which have frequently relied on modes of "serious" and "straightforward" realism and recognition.
Bossing Images: Rather Ridiculous! stages an experimental encounter between artist and writer Ismael Ogando, performer Werner Hirsch, and the audio installation Speaking Laughter (2016) by artist Susan Silton in order toask how various kinds of laughter and ridiculousness might serve as bases for different practices and forms of queer, feminist, and anti-racist politics. Can queer laughter operate as a tactic of refusal, recuperation, and repair (saying, "I'd rather be laughable and ridiculous than fit in!")? What happens to our bodies when we laugh? Can laughter disrupt and deform violent social situations, images, and texts?
With Speaking Laughter (2016, audio installation) by Susan Silton,
guests Ismael Ogando and Werner Hirsch,
Zaungast Zara Zandie
and a special screening of N.O. Body
(2008, 16mm/DVD, 15 min)
by Pauline Boudry and Renate Lorenz
6 – 7 and 9 – 10 pm
N.O. Body  (Pauline Boudry/Renate Lorenz, 2008)
7 – 9 pm
live performance with guests > Handout
Curated by // kuratiert von Jess Dorrance and Antke Engel
Funded by: Kulturamt Neukölln
part of the series Bossing Images. The Power of Images, Queer Art, and Politics
Bossing Images blog